Psycho-Oncology, the Survivorship Wellness Group Program, and Cancer Supportive Care Services are committed to offering psychological support with as little interruption as possible while ensuring the continued safety, comfort, and wellbeing of our patients and community. During the pandemic we have converted our service to telemedicine-based care until the time in-person gatherings are permitted to resume. Please call us at 415-353-3931 with any questions or concerns about how to access supportive care. We look forward to continue being of support as we weather this challenging time together.

After cancer treatment, your health is more important than ever.
Image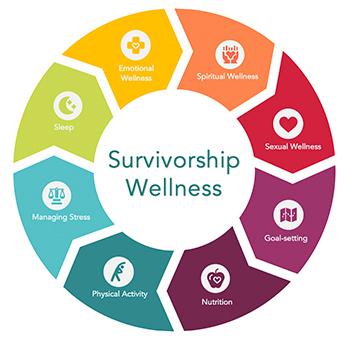 Survivorship Wellness is an 8-week clinical program focused on helping survivors of cancer learn about, set goals, and practice skills to optimize their health and wellness after cancer treatment.
In this group program, you will have the opportunity to learn from and practice with our cancer center dieticians, social workers, psychologists, chaplains, health coaches, and exercise counselors to set goals around nutrition, physical activity, managing stress, sleeping well, and promoting sexual, emotional, and spiritual wellness after cancer treatment.
Survivorship Wellness classes are held at the UCSF Mount Zion Campus
1600 Divisadero Street, San Francisco
Mondays, 1:30-3:00pm [view dates]
---
How to Refer or Register
Are you a UCSF patient, who has concluded cancer treatment, and is interested in registering for Survivorship Wellness? Call 415-353-3931 to learn more.
UCSF Providers seeking to refer patients to Survivorship Wellness may do so on APEX. Call 415-353-3931 with any questions about referring your patients.
Most insurance plans accepted. 
---
Learn More about Survivorship Wellness
---
Funded by Mount Zion Health Fund