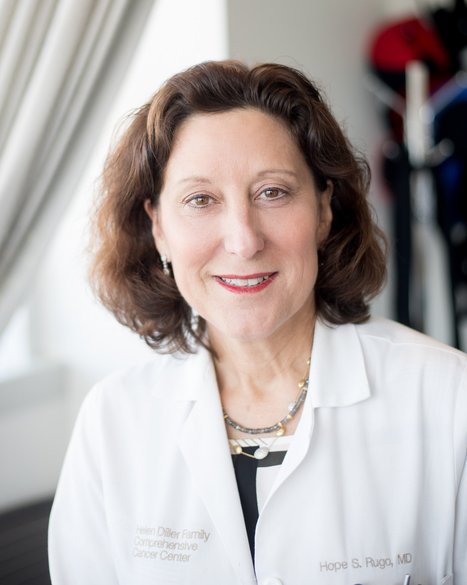 The UCSF Breast Care Center, under the direction of Dr. Hope Rugo and coordinated by Melody Gawliu, hosts a bi-monthly UCSF Bay Area Breast Cancer Forum at which health experts explore the latest developments and advancements in breast cancer research.

The forum provides an excellent venue for our patients and their families to gather new information about topics related to breast cancer and breast health.
To RSVP to and upcoming forum, or to ask questions: [email protected] 
---
Stay Tuned for the Next Forum:
Sept 29: "Updates from ESMO and on COVID."
---
Previous Forums
June 16, 2021. "Breast Cancer at ASCO 2021: Hear from the experts!" Dr. Rugo and her colleagues share updates from ASCO 2021.
April 21, 2021. "Applying Data to Clinical Practice: SABCS Updates and Beyond & Updates on Vaccination+Cancer"
February 3, 2021. Dr. Rugo and UCSF colleagues Dr. Michael Alvarado (Breast Surgery), Dr. Michelle Melisko (Breast Oncologist) and Dr. Theresa Chan (Breast Surgery Fellow), and more.
November 18, 2020. "Updates from ESMO 2020: New Developments in Treatment"
Dr. Hope Rugo moderated the virtual UCSF Bay Area Breast Cancer Forum to discuss results from the recent European Society for Medical Oncology 2020 Virtual Congress.
September 30, 2020. "Making the Most of the Pandemic: Mindfulness in the Time of COVID-19."

Dr. Rugo was joined by Dr. Dianne Shumay to discuss how individuals can practice mindfulness and manage their mental health during the pandemic. 
>>Mindfulness, Cancer and COVID-19: Resources
---
August 19, 2020. "Exercise Tips for Cancer Patients in the COVID-19 Pandemic: staying safe and healthy."  The following materials were referenced in the forum:
---
View the Forum Archive for previous events.