Molecular Tumor Board
The Molecular Tumor Board convenes experts in oncology, pharmacology, genetics and clinical trials to discuss the best options for individual patients based on the genomic alterations present in their cancer. In some cases, germline alterations detected in the patients normal DNA are also evaluated with the assistance of genetic counselors.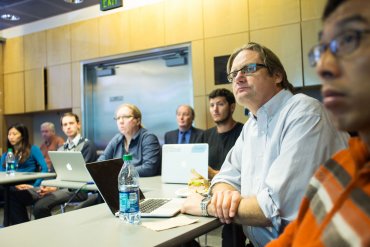 We use the results of molecular assays to help address diagnostic, prognostic and therapeutic questions to aid providers in making the best possible clinical care decisions for their patients.
Read more about the MTB below.
---
What is the Molecular Tumor Board and what function does it serve?
The Molecular Tumor Board (MTB) is the key forum for the implementation of precision oncology at UCSF. MTB helps to ensure all UCSF cancer patients are receiving the best and most cutting-edge care utilizing genomic data in conjunction with clinical attributes of their disease to create a personalized treatment plan.
Precision oncology requires an understanding of the sensitivity, specificity and limitations of the test the oncologist orders to profile a patient's tumor but additionally requires specialized knowledge on how to interpret the alterations detected in each tumor as clinically relevant or 'actionable'. An alteration can be actionable if it clarifies a diagnosis, provides important prognostic or risk information, uncovers inherited susceptibilities to cancer development and/or has therapeutic value.
The landscape of actionability is constantly changing and evolving:
approved targeted therapies
updates to clinical guidelines
new clinical trials
new data on individual alterations contributions to cancer development and progression
new data association genes and specific alterations in those genes to response to particular drugs
Navigating this complexity is a challenge for many clinicians. Molecular Tumor Board is a mechanism that addresses this challenge whereby clinical experts provide state-of-the-art and evidence-based assessment of molecular test results in order to guide the interpretation and integration of these results into clinical practice for cancer patients seen at UCSF or UCSF-affiliated hospitals. MTB is forum consisting of individuals with wide-ranging expertise, including molecular pathologists, genetic counselors, pharmacists, oncologists and other clinical experts where the molecular profiling results of individual patient cases are discussed within the context of that particular patient's cancer course and clinical history.
When and where do the meetings occur?
Molecular Tumor Board currently meets the 2nd Monday and 4th Thursday of each month from noon to 1:30pm. The meetings take place at Mission Bay campus but attendees can also participate virtually.
NOTE: Until further notice, Molecular Tumor Board will only be held virtually to mitigate spread of COVID-19.
Who can attend UCSF Molecular Tumor Board meetings?
UCSF health care providers, researchers, graduate students, post-doctoral fellows, and clinical fellows and residents. Health care providers from UCSF-affiliated hospitals can also join.
Contact [email protected] if you'd like to attend an upcoming UCSF Molecular Tumor Board meeting.
What are the requirements for discussing a case at UCSF Molecular Tumor Board?
**Case requests must come from a UCSF clinician**
If you are a patient who would like your case discussed at UCSF Molecular Tumor Board:
please discuss this with your UCSF oncologist. If you are a patient who is currently being treated outside of UCSF, your oncologist must put in a referral to have your case discussed at UCSF Molecular Tumor.
If you are a clinician not affiliated with UCSF:
please place a referral to have your patient's case discussed at UCSF Molecular Tumor Board
Patient must have a cancer diagnosis and have had some molecular profiling done on their tumor. We discuss both adult and pediatric cases and any cancer type including cancers of unknown primary, but UCSF has a state-of-the-art clinical-grade next-generation sequencing cancer panel of over 500 genes that includes germline analysis, microsatellite instability testing and tumor mutational burden.
> Learn more about the UCSF500 test and how you can order here
Where possible we prefer that patients discussed at MTB have UCSF500 performed on tumor AND germline DNA. Germline DNA is important because it provides information that allows analsysis of overall tumor burden. In addition, germline analysis can identify genetic predisposistions that may be of clinical relevance to the patient. If UCSF500 is not available but outside genomic testing is available, these cases can also be discussed at MTB upon request.
The requesting clinician must provide a short clinical summary using a provided template that will also specify the specific clinical questions he or she would like to have addressed at Molecular Tumor Board. Additionally, if results of a test other than UCSF500 want to be discussed, a pdf copy of report must be provided.
We strongly encourage the requesting clinician to participate at the meeting to discuss their patient as questions or clarifications often will come up during the discussion. We understand clinician schedules are busy, however, and we can work with you to find an alternative arrangement, such as scheduling your patient's case for discussion at an approximate time on a given date.
Contact [email protected] and/or [email protected] if you have a case you want discussed at Molecular Tumor Board.
How are cases discussed at UCSF Molecular Tumor Board?
We generally discuss 3-7 cases per meeting. For each case, the requesting clinician provides a short clinical summary using a template slide we provide. We then verbally review the test findings; if we are discussing UCSF500 results, the molecular pathologist who signed out the patient's report will provide commentary on findings. One of our clinical experts will then present their analysis on the actionability of findings, with emphasis on addressing your particular clinical questions. After this presentation, the case is open for further discussion by meeting participants. A formal recommendation report is written and issued usually within one week of the meeting.