UCSF500 Cancer Gene Panel
For some patients with advanced cancer, in particular when there is poor response to standard of care therapy, a new molecular diagnostic test, the UCSF 500 Cancer Gene Panel test, may be appropriate.
The purpose of the UCSF 500 test is to identify genetic changes (called mutations) in the DNA of a patient's cancer, which could help clinicians improve treatment of a patient's cancer by identifying targeted therapies, or appropriate clinical trials, or in some cases clarify the exact type of cancer a patient has. UCSF 500 test results might also provide information on genetic changes that are inherited and increase the risk of developing cancer for a patient or a patient's family.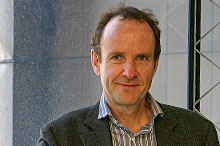 Sequencing for the UCSF500 test is conducted at UCSF's Clinical Cancer Genomics Laboratory (CCGL), one of the few hospital facilities nationwide that profiles tumor DNA and compares it with the patient's normal tissue, identifying mutations that may be driving tumor growth and matching those mutations with targeted therapies.
The CCGL, led by Boris Bastian, MD and composed of a team of molecular pathologists, bioinformaticians, and oncologists, validated and launched the UCSF500 cancer panel next-generation sequencing for cancer patients in 2015.