Even the most seasoned researchers can use help with grant writing. See below for helpful links.
Image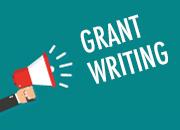 F Grant Writing Workshop
Open to graduate students and postdocs, this workshop meets once a month for 2 hours, between October and March, to review the "score-driving" sections of F grant applications, create drafts, and receive reviews. At the end, participants will receive a review of their complete draft from a faculty member.
Sessions will cover the following:
Oct. 12, 3-4pm

Course Welcome
Intro to the Proposal & Grants Office
Letters of Recommendation

Oct. 19, 2-4pm

Intro to the F Grant Mechanism
Applicant's Background and Goals for Training

Nov. 16, 3-4:30pm - Specific Aims
Dec. 14, 3-4:15pm

Research Strategy
F Grant Awardee Panel

Jan. TBD 

Institutional Environment and Commitment to Training 
Rational for Selecting Sponsor and Institution

Feb. TBD
Participation Requirements:
You have chosen your research mentor
Your mentor agrees to review 1 complete grant draft for one of your fellow participants (review occurs in March 2023)
Your mentor provides a letter/email approving your participation, agreeing to review your drafts, and agreeing to review 1 complete draft for one of your fellow participants
Agree to attend lectures and provide peer review for your fellow participants
Email Jennifer Seuferer for questions