Image

UCSF OACC Program Geriatrics Palliative Care Lung Cancer Pilot
The UCSF OACC Geriatrics Palliative Care Lung Cancer Pilot is a collaboration between thoracic oncologist Dr. Melisa Wong and geriatrician and palliative medicine physician Dr. Natalie Young to provide multidisciplinary care for older adults with lung cancer.
Referrals can be made through the general Thoracic Oncology (specify gerionc for Dr. Wong, 415-885-3882) and Symptom Management Service referral processes (specify for gerionc for Dr. Young, 415-885-SMS1).
Image

UCSF OACC Program Hematology/Bone Marrow Transplant (BMT) Pilot
The UCSF OACC Program Hematology/BMT Pilot will provide multidisciplinary care for older patients undergoing autologous or allogeneic hematopoietic cell transplant (otherwise known as bone marrow or stem cell transplant), or who are receiving CAR T therapy. Championed by the UCSF Cancer Center, the program will embed a geriatrician into the Hematology/BMT clinic, with a patient-centered holistic focus, to optimize the health and care of our older patients.
For questions regarding this pilot, contact Dr. Rebecca Olin and Dr. Laura Perry at 415-353-2421 (clinic).
Image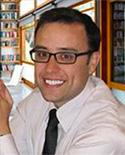 UCSF Palliative Radiation Oncology Service
The Department of Radiation Oncology is championing a dedicated palliative radiation oncology service to better serve the multidisciplinary needs of our patients with advanced cancer and to improve the delivery and efficacy of palliative radiotherapy across a variety of care settings.
Led by Dr. Lauren Boreta and Dr. Steve Braunstein, this program will also be partnering with the OACC program on academic and clinical endeavors.
Older Adult Cancer Care Program: Clinical Resources
Geriatric Oncology Services
General Cancer Center Support Services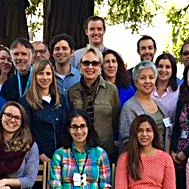 UCSF Symptom Management Service (SMS)
The Symptom Management Service (SMS) offers consultations to improve the quality of life and care for patients at UCSF's Helen Diller Family Comprehensive Cancer Center through treatment and counseling for physical and emotional symptoms of cancer.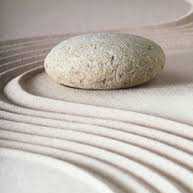 Psycho-Oncology team at the Helen Diller Family Comprehensive Cancer Center includes psychologists and psychiatrists who work closely with Cancer Center providers to identify and address the emotional needs of patients and their family as they cope with cancer and cancer treatment.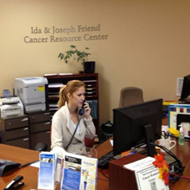 The Ida and Joseph Friend Cancer Resource Center
The Cancer Resource Center supports wellness and healing by providing patients and their loved ones with information, emotional support, and access to community resources. Available resources include exercise classes, one-on-one exercise counseling, and spa infusions.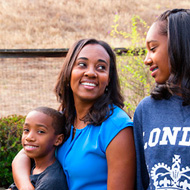 UCSF Cancer Survivorship Program
The Cancer Survivorship Program is designed for patients who have completed their initial cancer therapy and helps them focus on recovery by providing guidelines and resources for improving general health and well-being. Available resources include an 8-week group survivorship wellness program.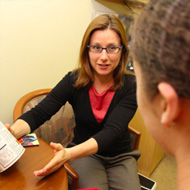 Cancer Center Nutrition Services
Cancer Center Nutrition Services are available to UCSF cancer patients at no charge, including one-on-one counseling with a dietician and nutrition seminars.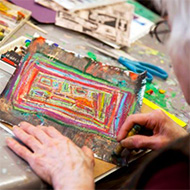 The Art for Recovery program provides a safe environment for patients and staff to express the feelings that may arise in illness and to find support.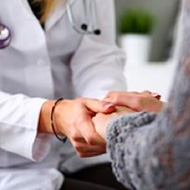 Integrative Cancer Care at The Osher Center
The Osher Center offers integrative cancer care where practitioners trained in both conventional and complementary medicine provide a personally oriented set of recommendations that combines a range of therapies, providing a holistic approach and an integrated treatment plan.
---
General Geriatrics Services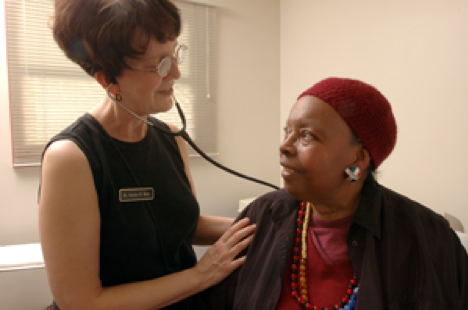 UCSF Center for Geriatric Care
UCSF Center for Geriatric Care offers patients personalized care from doctors who specialize in caring for older adults.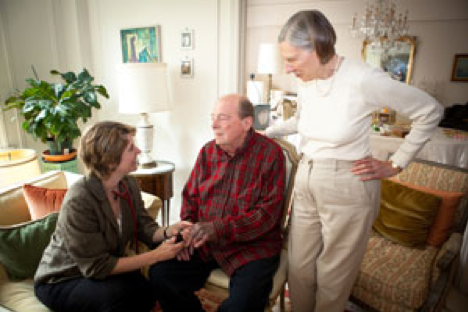 UCSF Care at Home
The UCSF Care at Home provides primary care and palliative care to homebound older adults living in San Francisco through their Housecalls and Bridges Programs.
The Housecalls Program includes a team of physicians and a nurse practitioner trained in the care of homebound older adults, including palliative medicine and hospice care.
The Bridges Program provides home-based palliative and transitional care consultations for UCSF adult patients of all ages.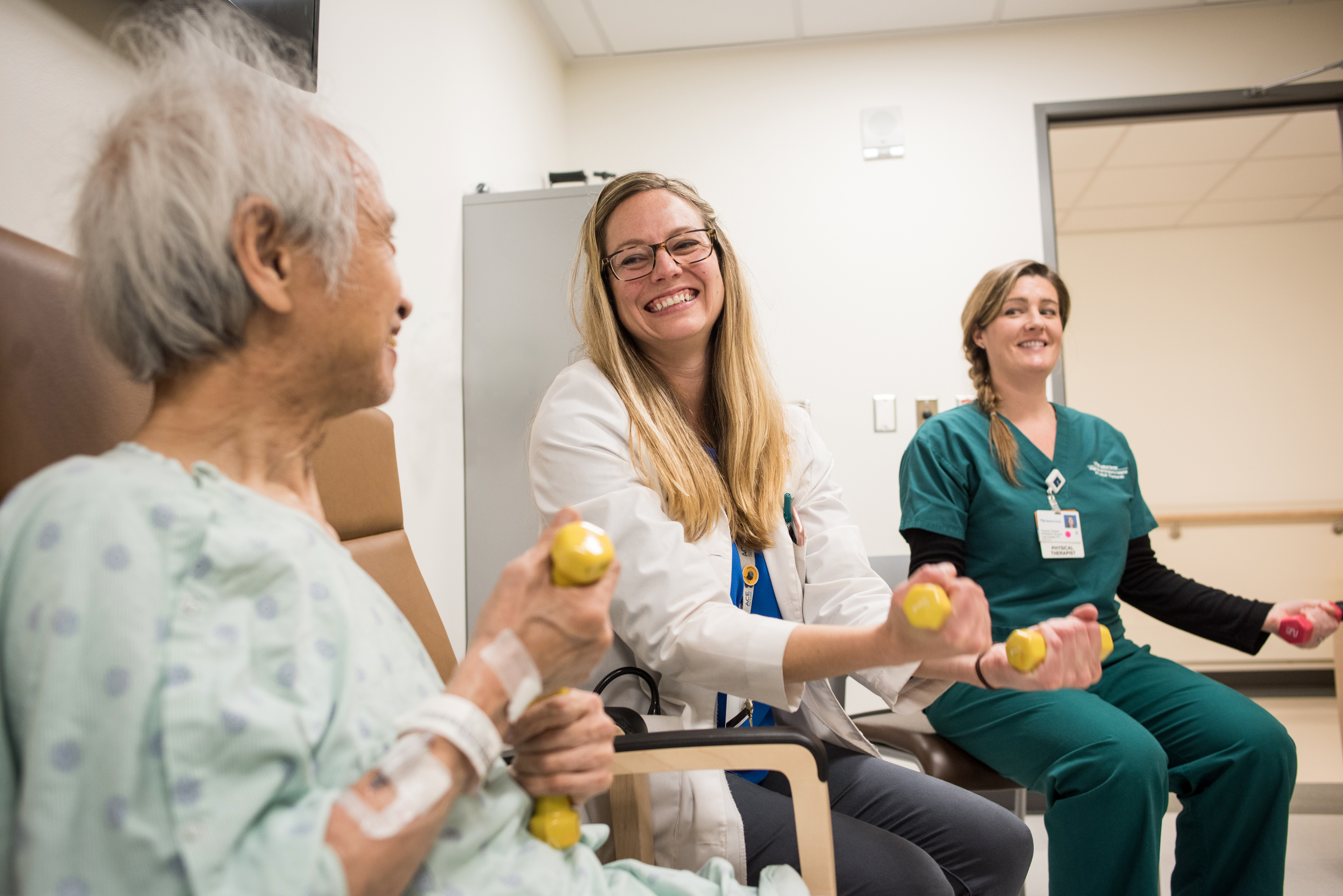 Acute Care for Elders (ACE) Units
The ACE Units at the UCSF Moffitt-Long Hospital and the Zuckerberg San Francisco General Hospital consist of a team of nurses, physicians, therapists, and patient care assistants who focus on the unique care needs of older patients to help preserve independence and ensure a smooth transition back to the community upon discharge.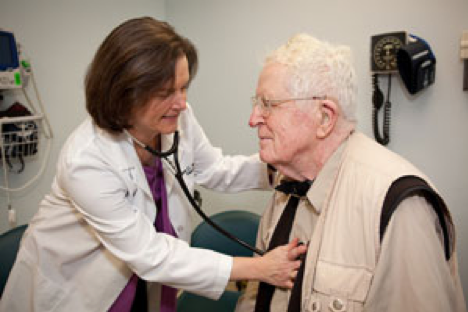 San Francisco Veterans Affairs Medical Center Geriatrics, Palliative and Extended Care
The Geriatrics, Palliative and Extended Care service line provides a coordinated array of services to veterans in need of comprehensive interdisciplinary assessment and care for functional impairment, cognitive decline, chronic disease management and end of life care. These services are provided in the home, clinic, hospital, VA Community Living Center, hospice and community nursing homes.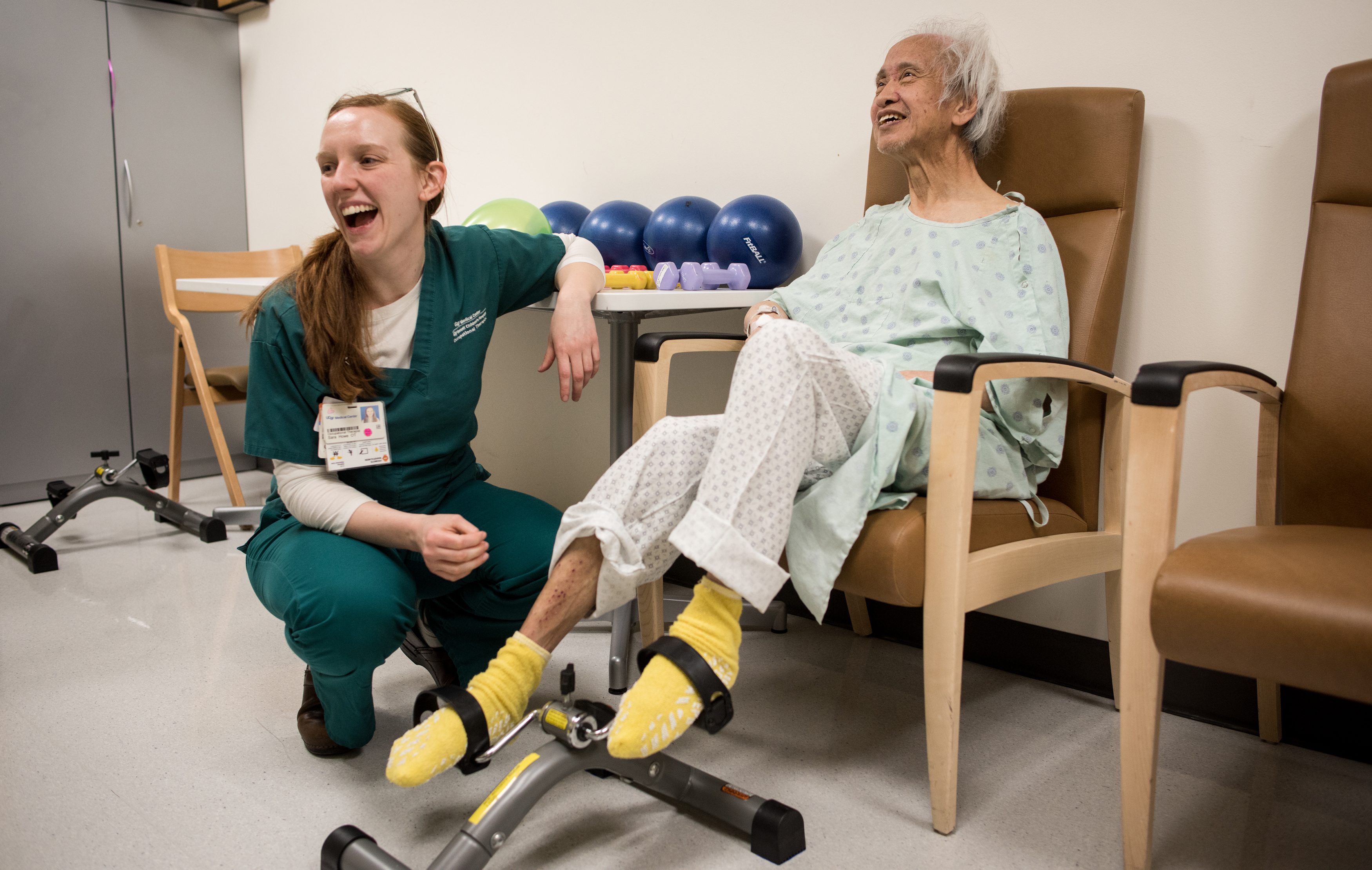 UCSF Geriatric Inpatient Consults
The UCSF Inpatient Geriatrics Consults at Parnassus is available 7 days a week help primary teams with the management of patients of any age with a geriatric syndrome; multimorbidity, cognitive or functional frailty, or high health care utilization.

UCSF Center for Surgery in Older Adults (CSOA)
The goal of CSOA is to discover and implement patient-centered best practices in geriatric surgery that will help older patients achieve their treatment goals and maintain independence and vitality.