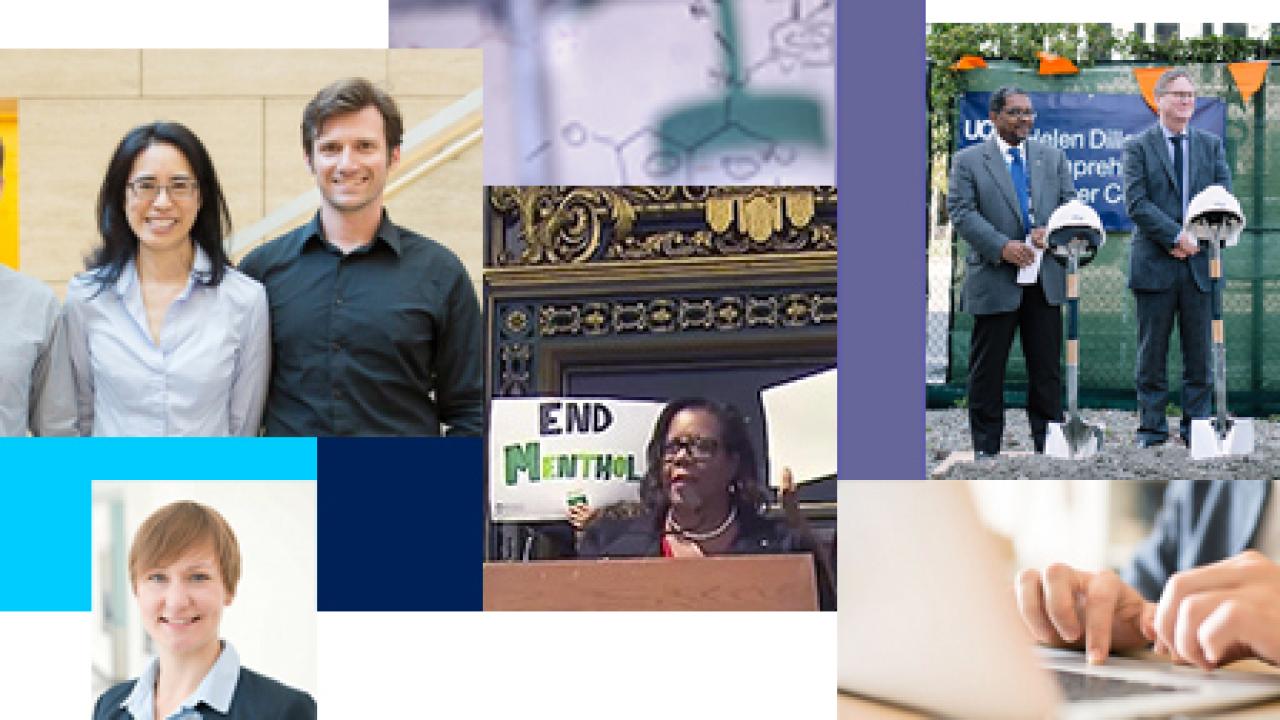 2017 has been a year of collaboration, innovation, and achievement at the Helen Diller Family Comprehensive Cancer. As the year winds down, we take a moment to reflect on some highlights. Our dedicated clinicians, curious researchers, and inspired philanthropists joined forces with patients and families, community groups, and government and industry partners to improve the quality of cancer prevention, treatment, and survivorship.
---
Collaborations
The HDFCCC expanded partnerships in pursuit of research discoveries, precision cancer care, and public policy. The University of California Cancer Consortium formed to coordinate UC's five academic cancer centers to address the state's most pressing cancer-related challenges — such as harnessing big data to improve health, extending clinical trials to more Californians, and leveraging political engagement for public benefit. The recently announced ATOM Consortium hopes to dramatically speed the timeline for cancer medicines by combining vast data stores, supercomputing, and scientific expertise. UCSF will set up one of five new Cancer Drug Resistance and Sensitivity Centers across the U.S. to address the persistent challenge of drug resistance.
New industry partnerships leveraged resources in biotechnology and big data to spur advances in personalized medicine. Recent collaborations include StratifyProstateTM Initiative for prostate cancer clinical trials, Cell Design Labs to speed up research on immunotherapies such as CAR-T, KSQ Therapeutics for mapping cancer vulnerabilities, and NantHealth Inc. to further investigate metastatic breast cancer.
New partners in the UCSF affiliate hospitals network extended the reach of UCSF oncology expertise, most recently to Washington Hospital in Fremont, California. The program at Washington Hospital, which opened this past January, creates a highly coordinated medical oncology network for patients receiving care locally, and facilitates referring and transferring patients to UCSF when needed.
Innovations in public health and precision medicine at home and abroad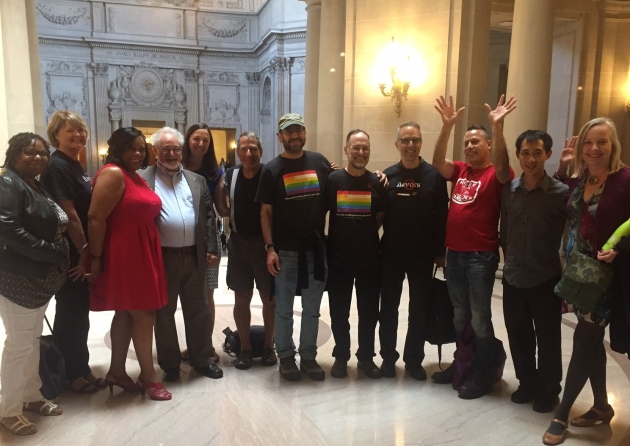 Cancer is the largest killer of San Franciscans. It also accounts for more deaths worldwide than HIV/AIDS, tuberculosis, and malaria combined. HDFCCC researchers have responded with local, state, and global efforts to combat cancer. Locally UCSF researchers on the Tobacco Task force of the San Francisco Cancer Initiative (SFCAN) prompted legislation to ban the sale of menthol and flavored tobacco within the city. The Center for Neuroendocrine Tumors led by Emily Bergsland, MD opened at Mission Bay, offering comprehensive evaluations and personalized treatment plans and includes a multidisciplinary team that treats patients with any type of neuroendocrine tumor.
A key cancer prevention effort in California, the WISDOM study, continued efforts to recruit 100,000 women statewide to better understand the best approach for breast cancer screening and guidelines. The HDFCCC's focus on cancer prevention and genetic testing were highlighted at Dreamforce 2017, with an interactive kiosk that allowed visitors a virtual tour of the Center for BRCA Research to learn about hereditary cancer care, from genetic testing for the BRCA genes to counseling and personalized preventive care plans. Expanding far beyond the state, the HDFCCC also launched a Global Cancer Program, headed by Katherine Van Loon, MD, MPH, to conduct innovative research, education, training, and mentorship with partners in low- and middle-income countries to impact the global cancer burden.
Achievements
Cancer Center membership grew substantially in 2017 to over 450 members who participate in ten multidisciplinary research programs. Cancer Center members received numerous accolades and many were recognized as national leaders in cancer research. At the 2017 American Society of Clinical Oncologists annual meeting, Hope Rugo, MD was named an ASCO Fellow, and Erin Van Blarigan, ScD presented data on the impact of diet and exercise on colon cancer recurrence. Van Blarigan's abstract was one of just six out of the 5,000 submitted to be featured in the prestigious press program.
At the 2017 San Antonio Breast Cancer Symposium Alan Ashworth, PhD, FRS was awarded a Brinker Award by Susan G. Komen® for his contribution to breast cancer research. Five of the fifteen researchers announced as Chan Zuckerberg Biohub Investigators are HDFCCC members. Most recently Peter Walter, PhD received the 2018 Breakthrough Prize for Medicine for his work on the unfolded protein response.
Internally, the HDFCCC granted the 2017 Cancer Center Impact Award to the team of Maria Wei, MD, PhD; Robert Judson, PhD; and Michael Keiser, PhD for their project, "Harnessing artificial intelligence & molecular diagnostics for rapid and accurate melanoma screening and diagnosis." Last year's Impact Award winner Eleni Linos, MD, DrPH, received a 2017 NIH Innovators Award for a pioneering effort developing an online public health campaign to educate youth about the dangers of tanning beds.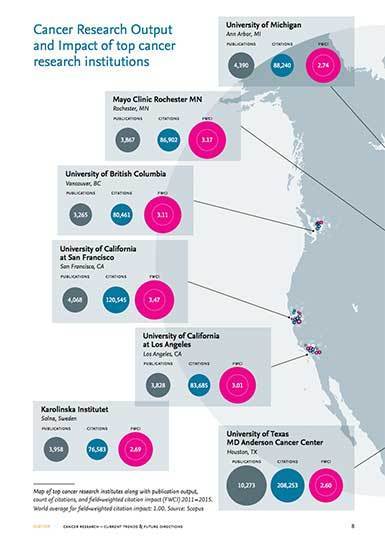 Cancer research and care at UCSF received several notable distinctions in 2017. Publisher Elsevier ranked the HDFCCC among the world's top five institutions producing the most impactful and utilized research. Also once again, US News & World Report listed UCSF Medical Center in the top ten hospitals for cancer care in the United States.
Transitions
Welcome and Congratulations: Joe Krovoza joined UCSF as our Executive Director of Development for Cancer Programs. Laurel Bray-Hanin was appointed Vice President and Chief Operating Officer of Cancer Services at UCSF Health. Laura Miyashita came onboard as Associate Director of Service Line Marketing at UCSF Health.
In Memorium: The UCSF cancer community lost two notable pioneers who made a lasting impact on cancer services at UCSF: economist and statistician Dorothy Rice, BA, and pediatric oncologist and UCSF Family House founder Art Ablin, MD. San Francisco also lost a longtime philanthropist, Gerson Bakar, whose great generosity toward UCSF included support for the Bakar Cancer Hospital at Mission Bay. Lastly, we join our colleagues at UCSF and throughout San Francisco in mourning the sudden loss of Mayor Ed Lee, whose support helped launch the San Francisco Cancer Initiative, among many other public health efforts.
---
What's ahead
On January 16th, an NCI review panel comes to the Cancer Center as part of our required Cancer Center Support Grant renewal to maintain our comprehensive designation. The Precision Medicine World Congress will take place in Silicon Valley in late January featuring several UCSF speakers. In June, San Francisco voters will decide on the proposed ban on flavored tobacco, which was prompted by SFCAN. Mid-year, many of our research coordinators and administrative staff at Mount Zion will move to Mission Hall on the Mission Bay campus as part of the effort to consolidate staff resources.
The
Precision Cancer Medicine Building
(PCMB) at Mission Bay will continue to take shape. The bulk of the work will take place through 2018 with an anticipated opening in early 2019. Cancer is one of the main themes of the recently-launched
UCSF: The Campaign
. Philanthropy is a huge part of what we're able to accomplish at UCSF and the HDFCCC, and we continue to be thankful for the generosity of donors.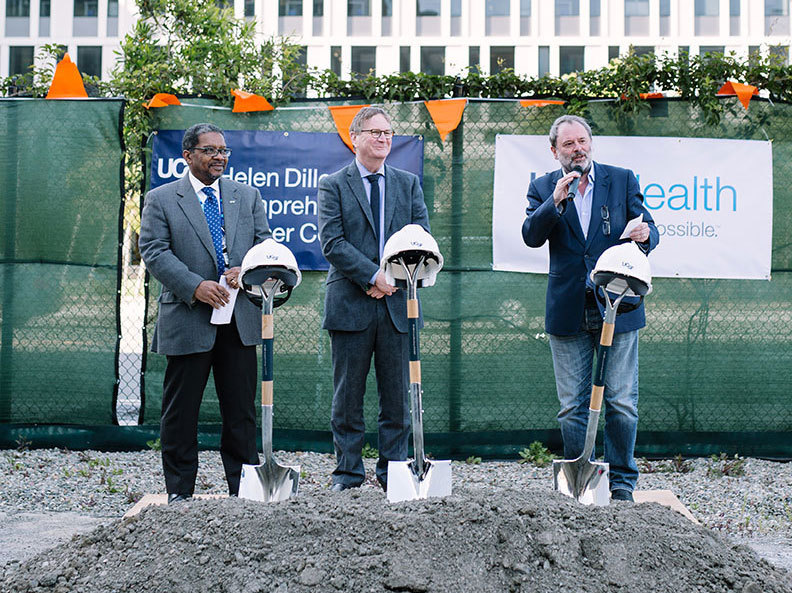 ---
As the year comes to a close, we thank the patients, families, and donors whose trust and confidence inspired us this year. Together, we will push forward toward a cancer-free future.