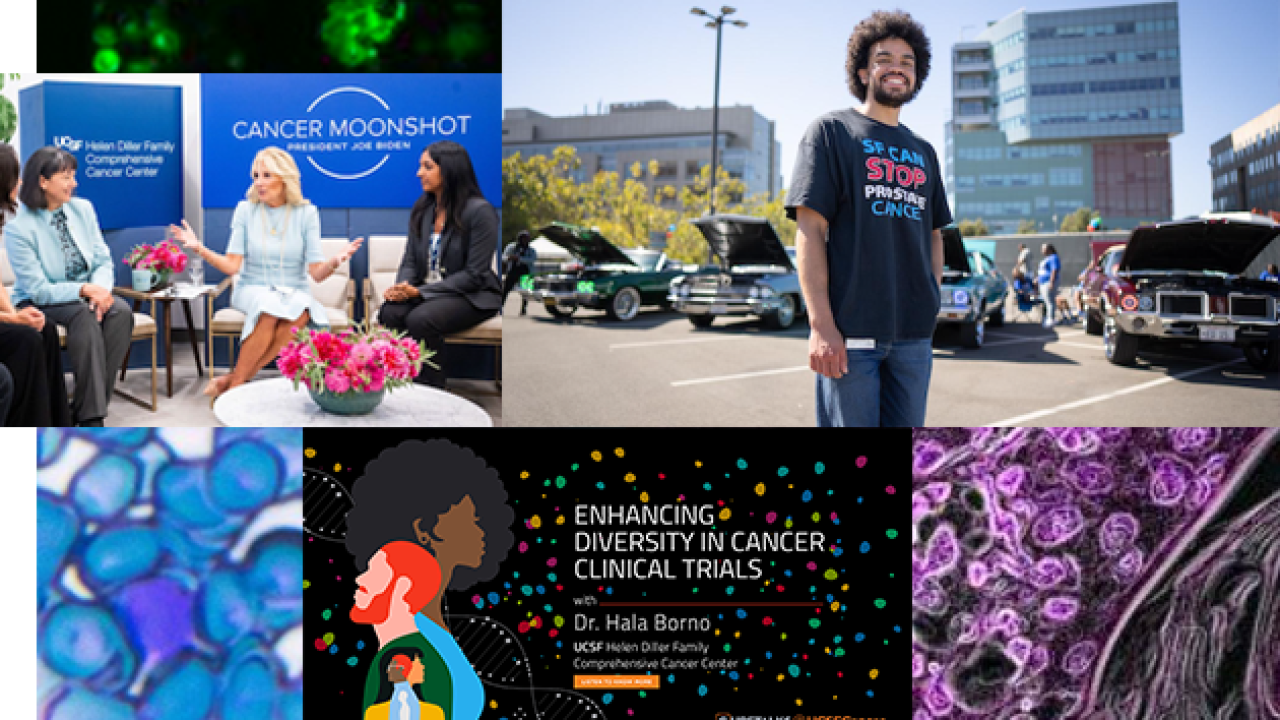 Advocacy, Activism, Science
This has been a year of innovation and achievement at the Helen Diller Family Comprehensive Cancer Center. Our dedicated clinicians, curious researchers, and inspired philanthropists joined forces with patients and families, community groups, and government and industry partners to improve the quality of cancer prevention, treatment, and survivorship. As the year winds down, we take a moment to reflect on some highlights.
Video Highlights
UCSF Hosts First Lady Jill Biden
Image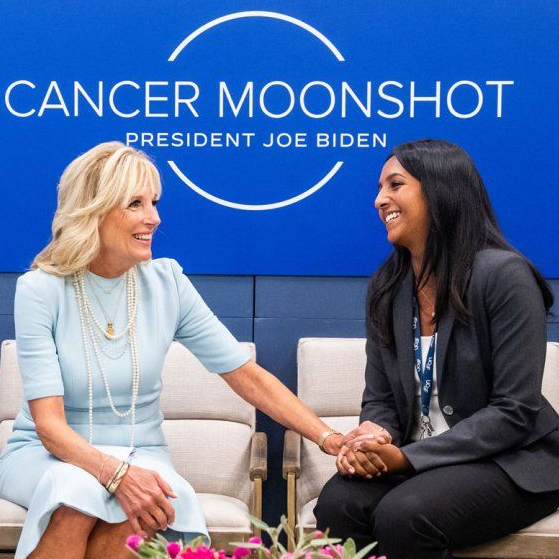 In October, First Lady Jill Biden, Ed.D, met with top UC San Francisco cancer leaders as part of President Biden's Cancer Moonshot program, The visit highlighted UCSF advances in breast cancer research and programs that support breast cancer patients, survivors and caregivers
---
Spotlight on Stellar Science
Image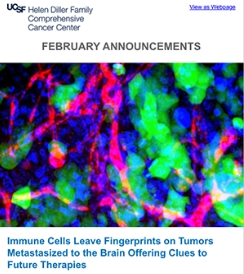 Additional news, awards, and events have been documented in our monthly newsletter archive.
HDFCCC at Conferences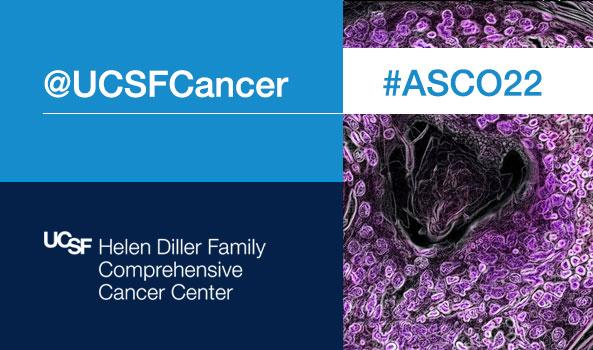 The annual gathering at #ASCO22 include the theme Advancing Equitable Cancer Care Through Innovation. UCSF speakers presented new treatment options for patients with breast, pancreatic, head and neck, gynecologic, colorectal or other forms of cancer.
---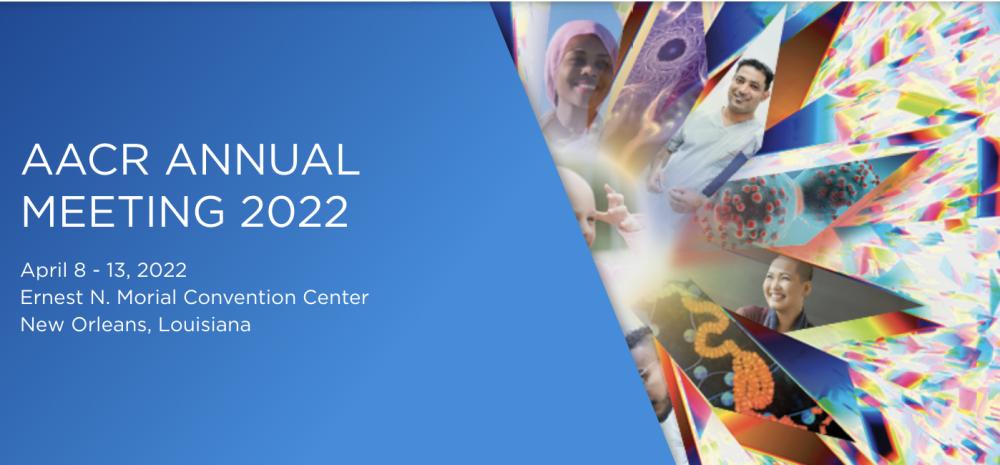 At #AACR22, UCSF leadership, scientists, postdocs, and trainees lent their expertise across the spectrum of cancer research—from population science and prevention; to cancer biology, translational, and clinical studies; to survivorship and advocacy.
---
This year's scientific program at #SABCS22 featured numerous presentations and updates on new and late-breaking data, including diagnostic developments by UCSF breast experts.
---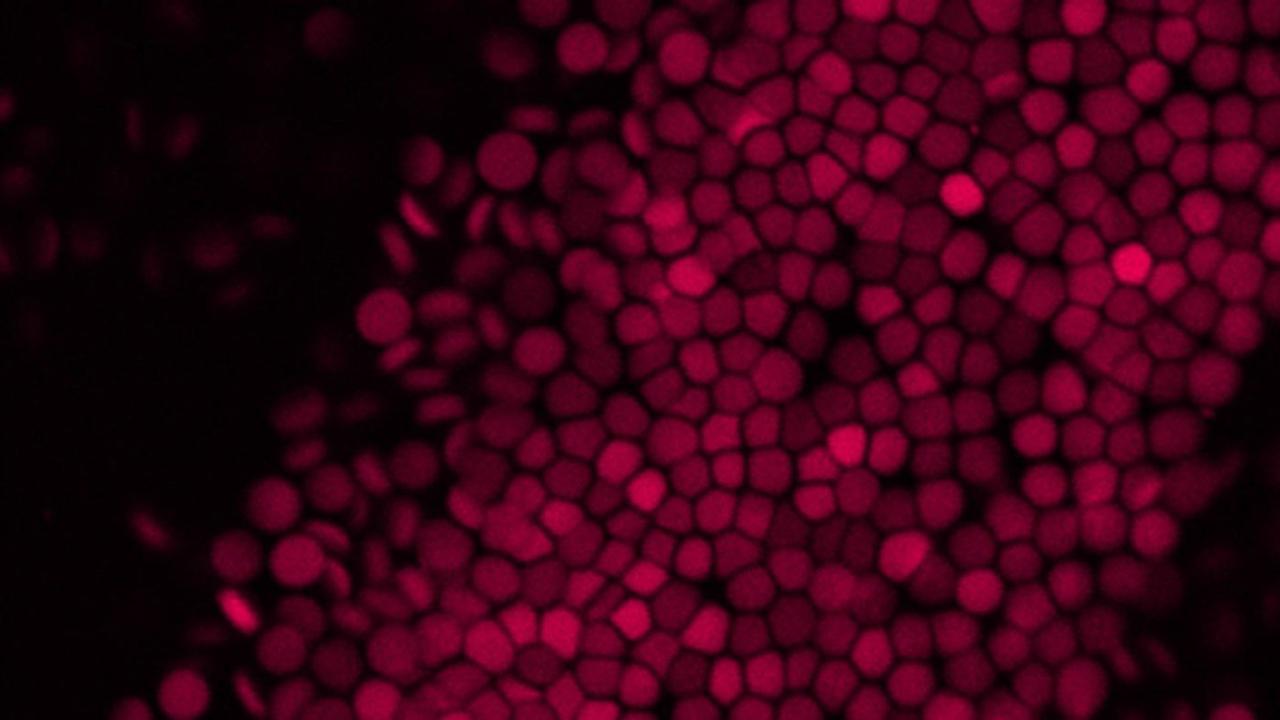 This year's scientific program at #ASH22 highlighted new and late-breaking data, including diagnostic developments by UCSF experts in multiple myeloma and other hematologic malignancies.
Awards and Achievements
In 2022, Cancer Center members received numerous accolades, and many were recognized as national leaders in cancer research. A few highlights:
Over a dozen Cancer Center members were ranked in the top 1 percent for impact in their fields, according to a new analysis of research citations by science and intellectual property company Clarivate.
A team of researchers co-led by UC San Francisco's Allan Balmain, PhD, FRS, has been selected to receive a $25 million Cancer Grand Challenges award to investigate the very early stages of cancer development. 
Valerie Weaver, PhD, received the 2022 Shu Chien Achievement Award from the Biomedical Engineering Society (BMES)
Alan Ashworth, PhD, FRS received an AACR Team Science Award with colleagues from The Institute of Cancer Research and Royal Marsden Hospital Breast Cancer Research Team. 
Nola Hylton, PhD was named a 2022 International Society for Magnetic Resonance in Medicine (ISMRM) Gold Medal recipient for her foundational work in breast MR imaging. 
Alan P. Venook MD, received a 2022 Luminary Award in Gastrointestinal (GI) Cancers.
Keith Yamamoto, PhD was elected president of the American Association for the Advancement of Science (AAAS)
Scarlett Lin-Gomez, PhD, MPH, won the ASPO Joseph F. Fraumeni, Jr., Distinguished Achievement Award
Eric Small, MD was named a 2022 Giant of Cancer Care in Genitourinary Cancers by OncLive.
> View the full list of our members' awards and honors received in 2022
Transitions
Welcome and congratulations: UCSF welcomed Krishna Komanduri, MD, an international leader in the fields of hematology-oncology, transplantation, and cellular immunotherapy, as tge new chief of the Division of Hematology-Oncology. Tung Nguyen, MD was named UCSF Associate Vice Chancellor for Research Inclusion, Diversity, Equity, and Anti-Racism (IDEA). Kathy Giacomini, PhD was named the new dean of the UCSF School of Pharmacy. Alejandro Sweet-Cordero, MD, was appointed chief of the Division of Oncology in the Department of Pediatrics.
---
Gratitude: We extend our appreciation to Arnold Perkins, founding member and longtime Chair of the Cancer Center's Community Advisory Board (CAB), who retired this month.
---
In Memoriam: The UCSF cancer community mourned the loss of several members of the cancer community, including Art Kern (1946-2022), longtime friend and supporter to UCSF. We extend our condolences to all our community who have experienced loss this year.
As the year ends, we thank the patients, families, and donors whose trust and confidence inspired us this year. Together, we will push forward toward a cancer-free future.